Diese Seite in

and who's going to come in last again? Micha hunting for rare additions to his collection of dried plants.
click on me(left) or Jochem (on the right) to hear how it sounds like, when youre sitting on the airhead.

But let's start at the beginning:
michaīs fast BMW page
here: that's me in 1988 having no clue at all, quasi disoriented, however totally horsepowerwise over-equipped with approx. 75 PS, riding high on the white-blue on the Grand Prix Tracks of the Nürburgring.
Please note the battery installed in the bench, according to the latest fad at that time (totally idiotic) and the rear swingarm by Uli VV Völkl(slightly better), my goal even in those early days had been to built a compatible bike from TÜV approved parts. Much to be regretted this has never been and still isn't the a way to move ahead with the BOTT. The Grand-Prix track was even nicer to ride at that time than the mucked-up, patched-up three times version for the 'round-about-driver' (typically smart-ass remark of an Ösi custom's official on our trip to Rijeka ) from the F-1 bunch. that was my first go at a BOT-Race. Engine fragments and a few other small parts like the Gabel and parts of the brake sytems from this first endeavour were later to be found as part of the Street Bike.


At the Airport Race at Straubing in 1989.




Quite interesting in comparison with the other Straubing picture, since it has been taken almost at the same place. Specifications: Standard engine 970 ccm eta then 10.5. muffler system by Bernd Baldes. 80 PS? Chassis: Front wheels 2.5 x 18",rear 4.25 x 18", fork K100 first series, Shock absorber Boge HD, VV-rear swingarm, Frame welded by Wolfgang Ingelmann


At the Dahlem Airport race in 1990



specifications: Standard engine 970 ccm eta 12.4. 90 PS? Chassis: front wheels 3.5 x 17",rear 4.5 x 18", front fork and brake system K1(standard) , Shock absorber WP, Frame welding by Wolfgang Ingelmann, too.

DMV-race at the 'Ring in 1990.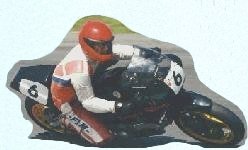 moving about with Jochem's steam boat. As soon as I'm done with Jochem's page I will tell the whole story on this monster. Base information: in the finished state heavily revamped Krauser engine, almost 10 cm! higher in the frame; exorbitant torque; RPM-limit 7200 1/min and end ratio i=13/34 equals 2.61; in order to get the damn thing to move, we had to transfer the first gear from the standard into the racing gearbox. 92 PS

Interlude: 1000 km from Hockenheim

Airport race Straubing in 1992.
Resulted in a (proud) fifth place. Specifications: Standard engine 970 ccm eta 13.0. (our customary mix of Mahle, Schleicher, Bing and hours and hours of work). And another reworked muffler system I had being done by Bernd 2 days earlier. 94 PS


regarding the BMW-Systemhelm 3 Interlude: the most s...... helmet under the sun.
1.NOISY! (I'm bothered with a tinnitus, which I account to the j... helmets some idi... put on the market.)
2.Water accumulate on the inside stays inside!
3.Water keeps running into the helmet. With glasses you got 4 surfaces to clean, claimed the malfunction at the friendly BMW Dealer: small sealing!! replaced at no charge, no improvement whatsoever! Fortunately I dumped the stupid thing including contents in the street. Now I'm riding with what's-it's-name Chauvi and am ever so happy. Don't send any mails regarding alternative opinions on helmets to me. (any mail reg. helmet goes to /dev/nul)!

Some time the following season I technically (with regards to racing )emigrated to the Netherlands, since I was fed up with German racing amateurism Sportcomissaris??; technical comissaris??; political comissaris?? featuring their golden honour needles of the ADAC(german car club) for repeated successful waving the blue flag, unfortunately you need an international A-licence for emigration; luckily you only have to ride one season and make it to the finish and then you have to take one, anyway. Due to the crazy starting fields you can be sure to get an international licence. Because making it to the finish means: step up on the ladder, means :points. Ok, almost :-)

In Zolder in 1993 no airport race.:-))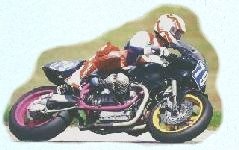 Really pleasant experience: friendly, competent! and patient registration officials, only 30% of the starting fee in Germany, had I made to the pedestal, I even would have received some PRIZE MONEY. But our class had loads of really good bikes and drivers. Somehow I got to be picking flowers again: place 12. And in the evening I had special dutch matjes at Rudi Ottenhof's. Super weekend! The way is the goal.

Reg. the engines: HP power indications on the rear wheel.
Special task: compare power indications in motor biking magazines?! :-))) How in the world is a R 100 RS clonker engine, most likely with standard compression, BMW-sportcam and a little bit the works to achieve 80 oder more HP? the standard doesn't come up with more than 60-65 HP.
Special Task: paint a picture of your engine and compare the results with the the manufacturer's specifications! :-)) the best 2V-engines used to have 96 HP with 970ccm and 104HP with 1120ccm , short-term max rpm 9500 1/min, permanent rpm under 8000 1/min( due to construction of the oil channel position on the crank shaft.) The old Krauser 4V with 1010 ccm by Jochem came up with approx. 90 HP, but at almost unbelievable 7300 1/min. The new r11rs 4V by Rolf still shows 118 HP after 20 races plus 2-3000 training kilometer. If I wanted to order an engine, I would go to one of two places: Paul Blum and Wolfgang Schnepf. Unfortunately they both closed shop. so we did everything ourselves.



With regards to the muffler systems
We always had a lot of controversy with regards to this issue, Rolf mostly rode on Schüle installations, sometimes stuff from me, I cooked up some artistic work for Jochem as well as for myself, however preferred to go to Bernd Baldes to Amberg to get something tailorized. After a couple of hours of discussion and a number of brews his insights made sense to me and the results on the check stand spoke for themselves.

in the end: In 1998 they talked me once more into going to the races, this time, however, as as a spectator. Pure pitty, what was going on there. 3 classes put together due to lack of participation, approx. 2 people in the audience (I took Wolfgang Küppers along). A true insider story and nothing but!


to be continued
1999
name
date
document-no.
drawed by
Micha
01.10.1999
010-09-99
last change
dito.
01.10.1999
bmw2.htm
contact
youre welcome
answer may last a little
idea and concept © Michael Kräwinkel